The Intelligence++ journey began in August 2020 with the goal of developing innovative solutions through an interdisciplinary program that designs with and not for people with disability.
Students came to this inclusive design program and design competition from InclusiveU, as well as from schools and colleges across Syracuse University. The first competition included participants from advertising; bioengineering; communications design; data analytics; digital media; entrepreneurship and emerging enterprise; fashion design; finance; industrial and interaction design; information technology; marketing; mechanical engineering; and television, radio, and film.
Program donor Gianfranco Zaccai '70, H'09 suggested that when addressing the various challenges associated with disability, Intelligence++ should not limit its scope. Opportunities exist at multiple levels to address the needs of the individual and the barriers of society that create challenges for these individuals.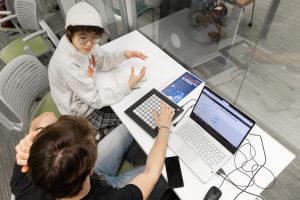 For instance, when it comes to disability, standardized testing often offers insights into what someone is not able to do and often fails to identify areas in which someone might be truly exceptional. Instead, Intelligence++ reimagines how persons with disability can contribute to the world in a meaningful way.
By taking a user-centered approach, participants in Intelligence++ focus on individuals while examining the support structures provided by family, specialists, and the community at large.
Creating innovative and inclusive products and solutions that support and value all individuals may appear to be a lofty goal, but it is the very nature of inclusive design to imagine solutions that address the needs of a segment of the population to the benefit of everyone.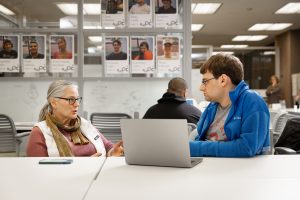 It should be noted that this effort began during a time of dramatic change within the workforce, with many entry-level or task-based jobs becoming automated. The impact of this shift has begun to ripple through the global economy.
The work of the inclusive and interdisciplinary student teams is compelling and thought-provoking. They are each asked to identify a real-world problem and develop a solution that has the potential to become a venture that impacts our world—with help from the Blackstone LaunchPad, Syracuse University's innovation hub at the Libraries.
Intelligence++ deeply appreciates the support of Gianfranco Zaccai as it looks to address the challenges of disability on the Syracuse University campus and beyond.
"Doing Well by Doing Good"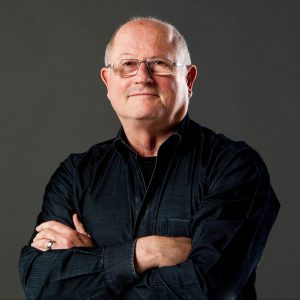 A note from Gianfranco Zaccai '70, H'09
When we founded Design Continuum, now EPAM Continuum, our mantra was "Doing Well by Doing Good" through "Human Centered Interdisciplinary Design."
This has led to the creation of many compelling products and services such as the P&G Swiffer and the Insulet Omnipod Insulin Delivery System. Each innovation has been the result of deep insights into the aspirations, frustrations, and limitations of real people in their daily lives, and then integration of interdisciplinary teams to create functionally and emotionally elegant solutions to complex problems.
The resulting innovations provide real value to both producer and client and, as a result, created virtuous cycles of long-term value for our client organizations and their customers.
At the same time, we are also very fortunate to blessed with neurodiverse children and through them to have met many other individuals, families, educators, and caregivers in their communities. Through them we have come to understand both the great need to do good by enhancing their quality of life and the great opportunity for doing well by creating economically compelling solutions in this vastly underserved area.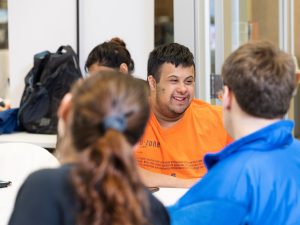 As a result, we asked ourselves some simple questions:
Why not apply the Continuum process of innovation for the benefit of the neurodiverse community, their families, and society as a whole?
Why not leverage the diverse sensibilities and creative energy of the most creative university students from multiple schools and perspectives?
Why not integrate the insights, experiences, and talents of the neurodiverse community in this process?
Why not do all of this at Syracuse University, the institution which instilled the genesis of this process in me and many others and has innovated by becoming the global leader in inclusive education through the InclusiveU program?
Why not make Syracuse University the global leader for innovation in this area?
As a result—and through the enthusiastic support of Syracuse University's College of Visual and Performing Arts, Libraries, School of Education, Whitman School of Management, and others—the Intelligence++ course and competition were born.
It is my hope that this initiative will grow through the years and that it will spark the creation of innovative solutions and new enterprises to augment human potential to enhance quality of life for all of us, while making Syracuse University the leader in innovation for the neurodiverse community.