Intelligence ++ is an innovative, interdisciplinary initiative at Syracuse University focused on inclusive entrepreneurship, design and community.
The project is available to both undergraduate and graduate students across the University, including students with intellectual disability from InclusiveU, a program of the Taishoff Center for Inclusive Higher Education.
A key element of the project is a two-semester course (DES 400/600) that encourages students from across campus to imagine and create products, devices, and services for persons with disabilities, culminating in a design competition in the spring. Students can sign up in either the fall or spring semester.
The course centers around three main concepts:
Aspects of Design—Once a specific need or opportunity is identified, student teams are supported by a group of experts to help develop a working prototype of their design. By taking a build-to-learn approach, students gain real-time feedback while continually evolving their design.
Understandings of Disability—including accessibility, disability rights and advocacy, disability history, language, disability culture, models of disability and inclusion
Entrepreneurship—students learn to develop a commercialization roadmap that moves through problem solving, solution building, testing, iteration, lean business model development, team formation, finding advisors and strategic partners, developing a funding strategy and pitching for investment.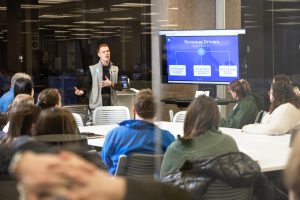 The class is taught by Don Carr, a professor in the College of Visual and Performing Arts' School of Design; with support by Beth Myers,  Lawrence B. Taishoff Assistant Professor of Inclusive Education in the School of Education and Executive Director of the Taishoff Center for Inclusive Higher Education; and Linda Dickerson Hartsock, founder of Blackstone LaunchPad at Syracuse Libraries and an entrepreneurship and emerging enterprises faculty member in the Martin J. Whitman School of Management.
Intelligence ++ was Launched in 2020 through a generous donation by Gianfranco Zaccai '70 H'09 and the Zaccai Foundation for Augmented Intelligence.
Interested in being a faculty partner, registering for the Intelligence++ course, or getting involved in Intelligence++ in another way? Contact Don Carr at dwcarr@syr.edu.
Designing "With" Not "For": The Intelligence++ Vision
Develop innovative product and service solutions through an interdisciplinary program that designs with and not for people with disability and that includes—at every stage—their insights, experiences, and perspectives.
Leverage the skill, spirit, and expertise of Syracuse University, by collaborating among world-class programs in industrial design, disability and inclusion, entrepreneurship, engineering, communications, management, and more.
Promote a user-centered approach to inclusive design, recognizing that opportunities exist at multiple levels to address the needs of individuals and of support structures provided by family, specialists, and the community.
Recognize that to design inclusively and universally means addressing the needs of a segment of the population to the benefit of all.
Grow Intelligence++ into a program that turns solutions for people with disability into novel enterprises that augment human potential and enhance quality of life for everyone.
Amplify Syracuse University's reputation as a leader in researching and designing innovations for people with disability.